18 Jun

Copperpoint Collaborates with Eau Palm Beach
Eau Palm Beach and Copperpoint come together to create Barrel Aged Imperial Stout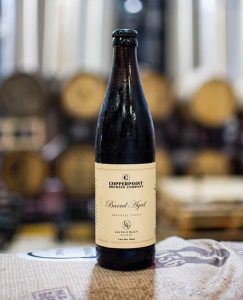 While a hotel may not be the first place that comes to mind when looking for a craft beer experience, the Eau Palm Beach Resort & Spa, located in Palm Beach, FL, prides themselves on doing things a little bit differently. The hotel not only has stunning rooms designed by Jonathan Adler and a spa that not even the most active person will want to move from, but its food and beverage service rivals top restaurants in which this is the only focus.
Another way the hotel is differentiating itself? The craft beer business. The idea, says Bryan Long, assistant director of food and beverage as well as the resort cicerone, came to life when he suggested using an old George Dickel bourbon barrel—long since emptied and being used as a piece of décor—was used to make a craft beer exclusively for the hotel.
"Our guests want to come here and they want to experience something they can't get at home and we want to stand out as a community, too, especially on the craft beer side so it was really the perfect marriage. We already try to source everything we can locally and love to collaborate and support anyone who is in our own backyard," Long says.
Read the whole story here at Forbes.com (link redirects to a new website)